Citizen Truth Verifier Academy, a subsidiary of Truth Verifier Systems, Inc., will be conducting a seminar entitled Security Management Techniques on November 15, 2011 (Tuesday), from 8:00 AM to 5:00 PM at ATENEO PROFESSIONAL SCHOOLS located at 20 Rockwell Drive, Rockwell Center, Makati City, Metro Manila. Registration starts at 7 o'clock in the morning. Participants are encouraged to have pre-registration and avail of an early bird discount.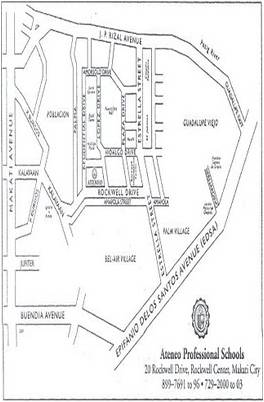 The said seminar will help the participants have deep understanding on the concept of security and investigation. Among the topics to be tackled on this day are: Background Investigation, Legal Aspects of Investigation, Investigative Interview and Interrogation, The Lie Detector Test and its components, Surveillance: that subdivided to Stake-out and Mobile, and Electronic Counter Intelligence.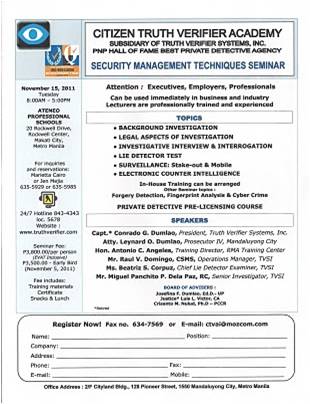 It is a one day affair that everyone should not miss. This is an opportunity of once in a life time having endeavored with the best professionals of the industry.
The speakers have been chosen because of their skills and of the great impact they have contributed in the field of expertise. They will share their knowledge and experiences. It will be led by Ret. Capt. Conrado G. Dumlao, President, Truth Verifier Systems, Inc. and Captain of the Professional Detectives, Atty. Leynard O. Dumlao, Prosecutor IV, Mandaluyong City. Hon. Antonio C. Angeles, Training Director, RMA Training Center, who was imported as a guest speaker to discuss his expertise in electronic marketing.
Also included are the Investigation authorities and TVSI Associates Mr. Raul V. Domingo, CSMS, Operations Manager, Ms. Beatriz S. Corpuz, Chief Lie Detector Examiner and completing the roster of guest speakers is Mr. Miguel Panchito P. Dela Paz, RC, Senior Investigator / Assistant Chief Polygraphist.
For more information, feel free to drop a call at these numbers 635-5929 or 635-5985 or e-mail at truth@mozcom.com drop or you may visit our website at www.truthverifier.com. Kindly look for Ms. Marietta Cairo, Head of Training Department or Ms. Jen Mejia, TVSI Associate.
TVSI also accepts In-House Training Private on Private Detective Pre-Licensing Course.